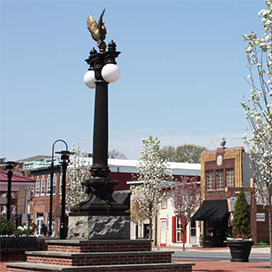 Middletown DE Real Estate: Buying or Selling Homes
When choosing to buy, or sell a home in Middletown, DE, you need an agent that is familiar with the area. Are you Relocating to Middletown Delaware? Rick Anibal is the Realtor for helping you with all of your Middletown Delaware Real Estate Needs!
Rick Anibal is your Middletown, Delaware Realtor!
Rick Anibal has lived in the MOT area for more than 25 years. Rick has seen Middletown grow from the once small farm town it was, to the fastest growing city in Delaware.
There are plenty of homes for sale in Middletown, Delaware to choose from. From condos, townhomes, duplexes, single family homes, to luxury estates, you can find something in every price range. With quick and easy access to Route 1, Middletown, DE is a perfect place to call home. With the addition of new commercial development in Middeltown, DE you will have all of your shopping needs fulfilled close to home.
If you want to find a Middletown, Delaware home for sale call Rick Anibal 302-547-6700. Let Rick help you get into your dream house in Middletown, DE! If you, just started to look for a house and you do not think you are ready or need the help of a licensed Delaware realtor, please call Rick . Rick will help you with the search process, inform you of updates, and give you local market information that will help you find that perfect house. It is never too early to talk to Rick. Do not rush into what could be the biggest purchase of your life. Rick will take the time to help you from start to finish!
When deciding to list your house for sale in Middletown Delaware, let Rick Anibal give you the advice you need to get your house sold as quick as possible!
Call Rick Anibal today for a no obligation appointment.
Middletown's Website:
Middletown's Statistics:
www.city-data.com/city/Middletown-Delaware.html
Middletown's School District:
There are plenty of activities and youth sport programs offered in Middletown, DE. This is just another reason why Middletown, DE is a great place to raise a family. You and your kids will never get bored with all of the local options.
MOT football and Cheerleading (the largest programs in the state):
www.motyfcl.com/leagues/homeMOT.cfm
www.eteamz.com/motll/index.cfm
MOT Little league offers T-ball, Baseball, and Softball:
www.mtownsc.com/
Middletown's Historical Theatre:
www.everetttheatre.com/