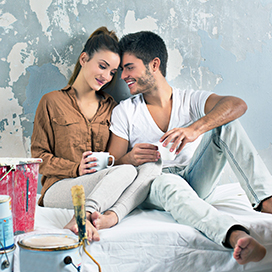 Buying your first home should be done with the help of an experienced Real Estate agent. Rick Anibal has helped many first time home buyers in Delaware. Rick Anibal has the ABR designation. Not every agent is an Accredited Buyer Rep.
The Accredited Buyer's Representative (ABR®) designation is the benchmark of excellence in buyer representation. This coveted designation demonstrates to peers and consumers your commitment to providing outstanding service for real estate buyers.
It is a great time to buy your first home in Delaware.
The Delaware housing authority has unbelievable rates offered for first time home buyers. Now is the time to act before rates start to move up in the future!! Buying your first home can be a stressful and confusing time. Having a realtor that will work for you to ensure you get the best deal is important! Call today and get start thinking of owning your own home!
Rick Anibal can help you with buying your first home in DE. Rick Anibal can match you with a home that you have always imagined. Rick Anibal can help you from the beginning stages of making sure you qualify, to the very last detail of handing you the keys to your new house.
Rick Anibal will work hard to not only find your perfect Delaware home, but also handle every last detail of the purchasing process.
NO matter how big or small, let Rick Anibal find your perfect Delaware Home.
Give me a call or email me to get started finding you your first home. Not sure where to start, don't worry call me so I can point you in the right direction.
DO NOT RUSH YOUR DECISION ON BUYING A FIRST TIME HOME.
I recommend getting an early start on the process, so please call me even when you are a year away from buying. This will give you plenty of time to make the right decisions!
There has never been a better time to buy a home in Delaware. Don't waste any more time, Call Rick Anibal your Delaware Realtor.
Use this form to get started searching for new homes in the area. Once we receive your filled out form, we will begin your custom home search for you. Please note: This is not an instant process. We have to assess your data and will be in direct contact with you to discuss. We look forward to working with you!